Services - Equipment Rebuilding and Repair
TPEI is widely known for its machine rebuild expertise. We pride ourselves on our attention to detail and knowledge of the continuous mixer. Our experience in custom-designing equipment and components enables us to restore a machine to its original capacity, or upgrade it to match the performance levels of newer machines.
Machine Rebuild Options
Complete machine rebuild
Component rebuild
Design changes
Control upgrades
Rotor restacking
Gearbox rebuilding
Rotors, Dies and Optional Equipment
TPEI can repair or rebuild worn or broken rotors for a fraction of the replacement cost.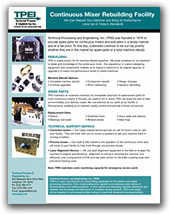 Download for more information
Register now to stay up to date on the latest news and information about our products and services.

It's free and it only takes a minute.
We Can Rebuild Your Machine and Bring Its Performance Level Up to Today's Standards