About Us
FOUNDED IN 1979
Technical Processing and Engineering, Inc. (TPEI) was founded in 1979 to provide spare parts for continuous mixers and extruders in a timely manner and at a fair price.
FOCUSED ON INNOVATION
Paying close attention to customer feedback it became apparent that the compounding industry was ready for innovation. TPEI expanded its focus and concentrated on bringing to market a continuous mixer incorporating, practical suggestions, the latest technologies, and overcame inherent weaknesses (costly to both OEMs and their customers) in others' designs.
FIRST LINE OF MIXERS LAUNCHED
In 1985, TPEI designed its first line of high output, low maintenance mixers and their continued success has evolved from attention to each application, and each individual customer's need.
TPEI TODAY
Today, TPEI is a domestic manufacturer with a sustained annual growth. It maintains a niche position in the market - large enough to sustain technical development through a variety of economic climates, yet small enough to provide highly valuable individualized customer service.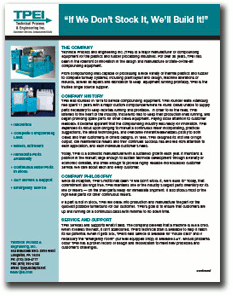 Download for more information
Register now to stay up to date on the latest news and information about our products and services.

It's free and it only takes a minute.
COMPANY PHILOSOPHY
Since its inception, TPEI's motto has been "If We Don't Stock It, We'll Build It!" Today, that commitment still rings true. TPEI maintains one of the industry's largest parts inventory for its line of mixers - on the shelf parts ready for immediate shipment. TPEI also stocks most of the high-wear parts for other continuous mixers. If a part is not in stock, TPEI will break into production to manufacture the part for the quickest possible turnaround for our customer. TPEI's goal is to ensure that customers are up and running on a continuous basis with minimal to no downtime.
Customers continue to be our top priority whether they are in the market for spare parts or a total machine rebuild